There's a lot that goes into building a successful and profitable Amazon Store. Sellers often find themselves getting set up, doing some "standard" optimizations, and then sitting on their hands because they don't know what else to do.
And it makes sense, pretty much everywhere you turn for help, you're told to do the same things:
Optimize your listings (titles, images, bullet points and descriptions, A+ content, keywords)
Run PPC Advertising
Enroll in Brand Registry and the Vine Program
Then…wait? Continue to try and optimize?
But sometimes sales don't take off like you want them to. You're doing your best with the ads—and you used all the right keywords in your listings—but sales just aren't coming in.
The truth is that there's a lot more that you could be doing. Not a lot of other agencies do these things, and not everything is applicable all the time, but if you've done the basics, then these are all programs you should take advantage of.
And actually, this isn't the end of the list—this is just where we would recommend you get started.
Fill Out Your Seller Profile
The Seller Profile is a widely neglected aspect of Amazon. But this is the publicly displayed section of Amazon that customers see when they have a question, leave seller feedback, or want to make sure they're buying from a reputable seller.
A good seller profile, although not a high traffic area, reassures the customer and gives you an opportunity to build trust with them.
If your brand is already established, has logos and messaging already figured out, then filling out a seller profile doesn't take a lot of time. But again, it can make all the difference in reassuring the customer that purchasing from you will be a good experience.
Here is what a fully filled out profile looks like:

Business Certifications
As part of completing your seller profile, you have the option to apply for or upload business certifications. Amazon allows customers to filter for items sold by companies that are:
Small Business
Women, Black, or other Minority Owned
Climate Friendly
These certifications signal to the customers the kind of business you are and your dedication toward certain communities.
Generally speaking, customers don't filter by these options, but more and more, as consumers become more conscious, these options are increasing in popularity.
By getting certified in one of these areas, you narrow the field of competition, making it easier to find loyal customers that can identify with your brand. And you can be certified in more than one category, making it even easier to find your products.
Amazon has recently started recommending Supplier Gateway for sellers to apply for certifications. The process is relatively quick and simple, it's free, and it applies for multiple certifications at the same time. You can find and apply for business certifications here.

Posts
Amazon Posts aren't anything new, but they are underutilized. Posts can show up in a number of places, but the main area they're seen is on the detail page right above the reviews. They allow you to showcase products with almost any kind of image you want, insert a call to action, and get customers to follow your brand.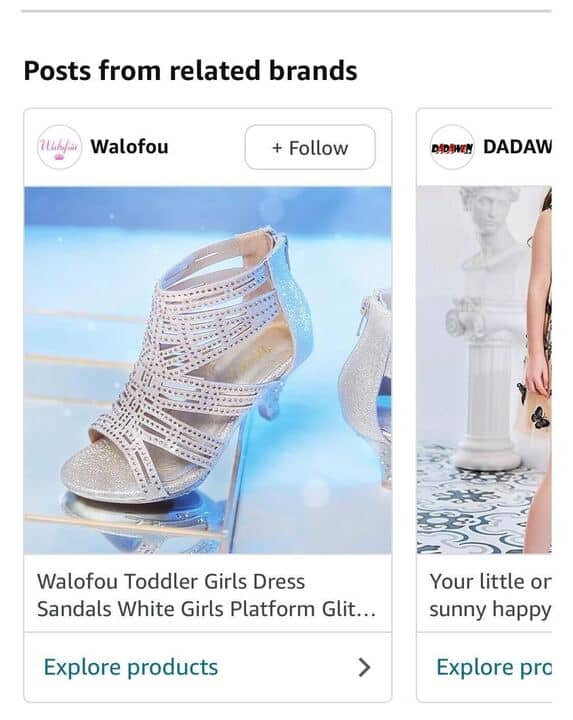 The follow rate on posts is not high. You'd have to have a lot of traffic to Amazon posts to gain followers. But once you have followers on Amazon, engaging them is super easy and effective.
Additionally, if your brand already has a social media strategy, it's likely you're already creating content you can leverage through Amazon posts. Our recommendation is to just repurpose the content you're already posting to social, making changes only as necessary.
It's possible that there is a more effective way of handling Amazon posts. But for now, posts don't show up on every detail page, they aren't high visibility, and they don't usually receive a lot of traffic. So the idea here is to play the long game by doing something that works, but especially doing what's sustainable.
Amazon Attribution and Brand Referral Bonus
Amazon loves it when sellers bring more sales to their platform. So much in fact, that they'll pay sellers to do it. Well, at least sort of.
Amazon Attribution has been around for a few years not at this point, and what it allows you to do is track the sales you bring in from other platforms. Whether you're running an email campaign, Facebook Ads, or otherwise driving traffic to Amazon, you can generate a pixel that tracks the sales that come from those efforts.
Amazon Attribution can really inform you advertising efforts, allowing you to develop a solid omni-channel approach. But what really takes it over the top is the Brand Referral Bonus.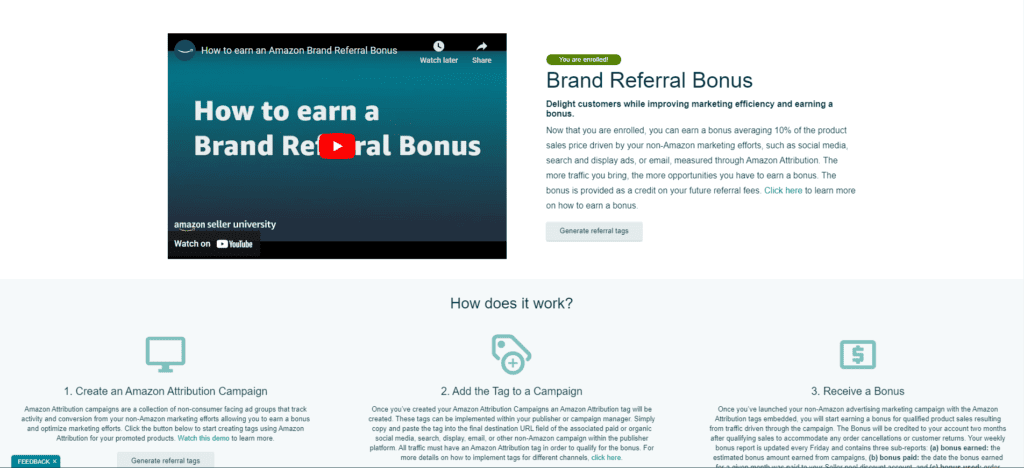 When you enroll in Brand Referral Bonus, Amazon will give you a fee discount for the sales you drive from off-Amazon campaigns. This is a referral fee discount that is normally applied to your sales, and it averages to "10% of the product sales price".
It's puzzling to us why Amazon doesn't have this enabled by default with Amazon Attribution, but they don't. So if you're going to use Amazon Attribution, be sure you also use Brand Referral Bonus so you don't lose out.
Video Advertising
Even in 2023, Video Ads are a widely underutilized ad type, but it can be extraordinarily effective in driving traffic and sales on Amazon.
One of the biggest reasons video ads can be so effective that videos are way more engaging visually. When a customer is scrolling through a results page, they're looking at dozens of static images. So when they encounter a video—something actually moving, their eyes are naturally drawn toward it.
Video Ads also take up a massive amount of space in the SERP. On desktop, there are typically four results per line, and a standard Sponsored Products ad will take up one result. However, Video Ads take up an entire row, which means that you get 4X the real estate per ad spot compared to Sponsored Product Ads.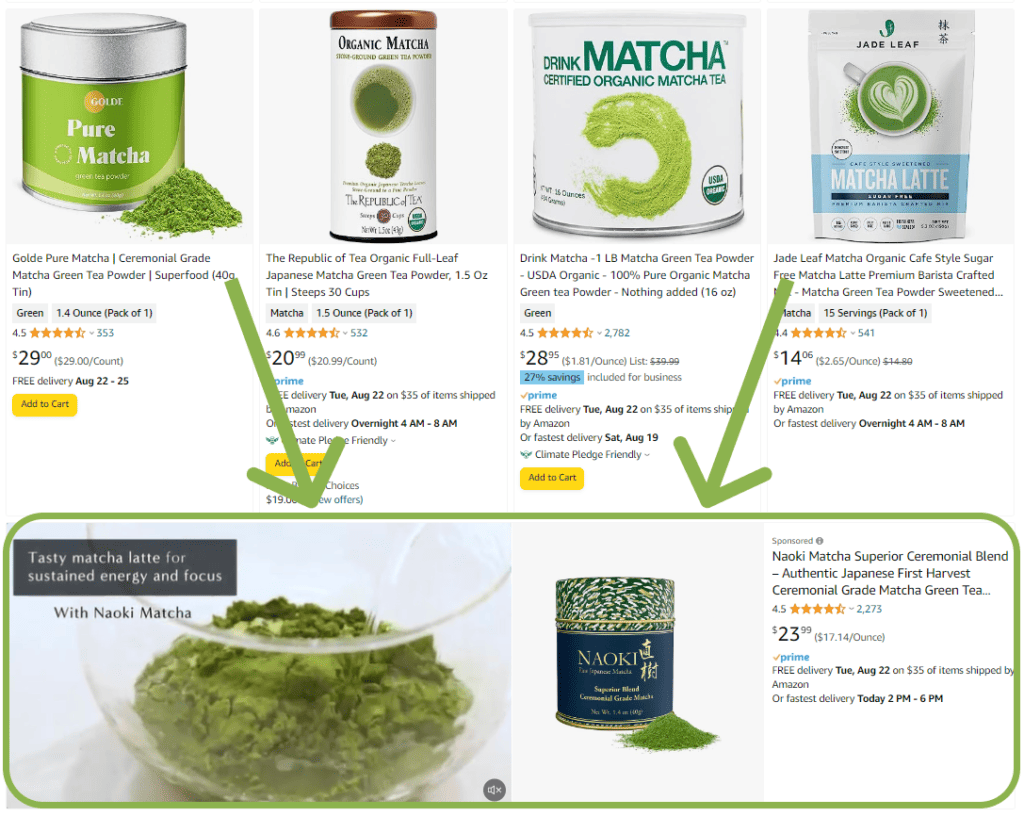 But the crazy thing is, Video Ads don't cost 4X Sponsored Products Ads. In fact, we haven't seen a difference in Video Ad CPC from Sponsored Products CPC.
And all of this means that you can have a highly engaging, high converting ad that takes up a lot of space, all for the same price as a normal click.
A lot of sellers have concerns about developing video content because it's usually pretty expensive. However, for the size, length, and kind of content needed for an effective video, most brands can fit it in their budget—or even do it on their own. And if done well, it pays for itself many times over pretty quickly.
It's likely that one day, Video Ads will be competitive and expensive, but that probably won't happen for a long while. Video content is still something a lot of brands don't leverage, which means it's a content category you can take advantage of.
For a more detailed look at Amazon Video Ads, click here.
Premium A+ Content and Brand Story
Most sellers know about and leverage A+ Content pages. They usually make one or two pages for all of their products, and then they leave it at that. But there's actually a lot more that Amazon sellers have access to.
We recommend that brands take advantage of the Brand Story page feature. It's simple to build, and allows brands to showcase more than just one product. But more than anything, it's more of the detail page that you can make your own.
Generally speaking, we would recommend brands create one Brand Story page per registered brand—and take advantage of all the modules you can. This is your chance to really present the best of your brand to your customers.
Information about your company's mission, the kind of products you sell, how you make an impact, product pairings—these are all good and appropriate pieces of content to include in your Brand Story.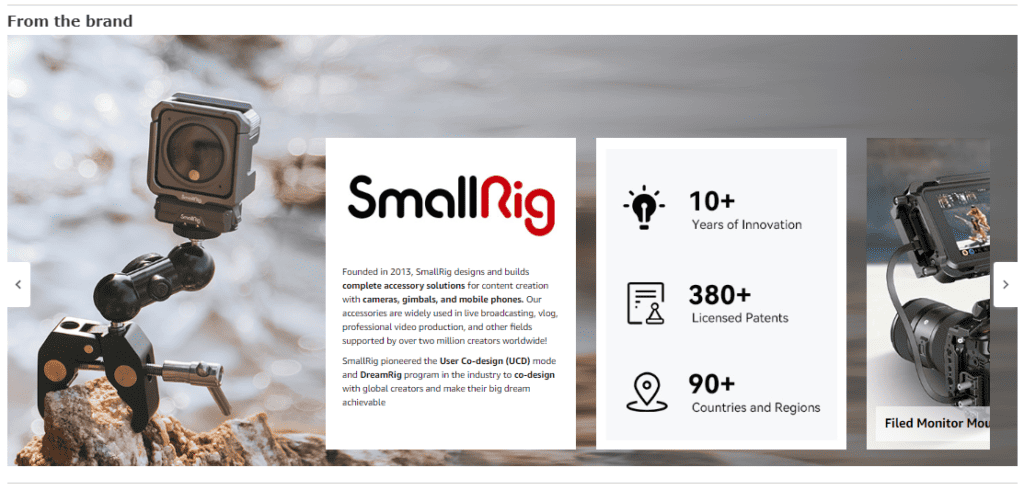 Once you've created a solid brand story, you can utilize all of the modules in A+ Content to focus on the product. This means that you can get very specific with the information you provide in your A+ Content pages, which should help customers make a purchasing decision.
It's no secret that customers have a habit of scrolling all the way to the bottom of the page to find the reviews. So if you want your A+ Content to be looked at, it should be very visual.
Lots of the content modules Amazon provides in the A+ Content manager are very word-heavy. And if you have something to say, you should say it. However, A+ Content should be eye-catching and visually engaging. Try to make your A+ Content, visually-based as much as possible.
But then don't stop there…
Once you've created 15 A+ Content pages, you can qualify for Premium A+, which contains video, interactive content and chart, and carousel modules. In addition to looking better, these modules are also more useful, which can help you inform your customers.
This is one of the reasons we recommend having a separate A+ Page for every product—you can't unlock these modules unless you have at least 15 pages.
And let's say that you only have a handful of products, but you have at least 15 variations. You can keep the same A+ Content for each variation, but duplicate it and apply each duplicate to only one variation. This should unlock the modules for you to use.
This product detail page from SmallRig is a great example of what we're talking about. They have a thorough Brand Story and a highly-visual and product-focused Premium A+ Page.
A/B Testing
Amazon's split testing software (known as Experiments) is better than it's ever been. What was once an arduous task that was difficult to measure is now automated and effective. With Amazon's A/B Testing software, you can measure the effectiveness of different iterations for your product:
Title
Main Image
A+ Content
Product Description
Bullet Points
And it's really simple and easy to do. You simply plug in an ASIN, input what your "B" version is, and run the experiment. Amazon will then automatically send half your traffic to the version of the listing with the "A" attribute, and the other half to the version with the "B" attribute.
It takes a couple of weeks before Amazon starts to show initial results, but will continue to run the test until it gathers enough data to reach a conclusion on which iteration is more effective for your listing.
Amazon will give you a confidence score, which is how sure it is of the conclusion of the test. They'll also provide you with the data gathered during the test, so you can make a decision for yourself.
You can also have Amazon automatically publish the more effective attribute once a conclusion has been reached. This saves you time and effort if you're running experiments on a lot of products.
Once you've pretty well complete a product detail page, there's always room for improvement. So we always recommend having an experiment running, if you can manage it. This allows you to always be refining and improving your customer's experience. It also means you don't need to guess on what a better listing looks like. You can make sure that you always make data driven decisions.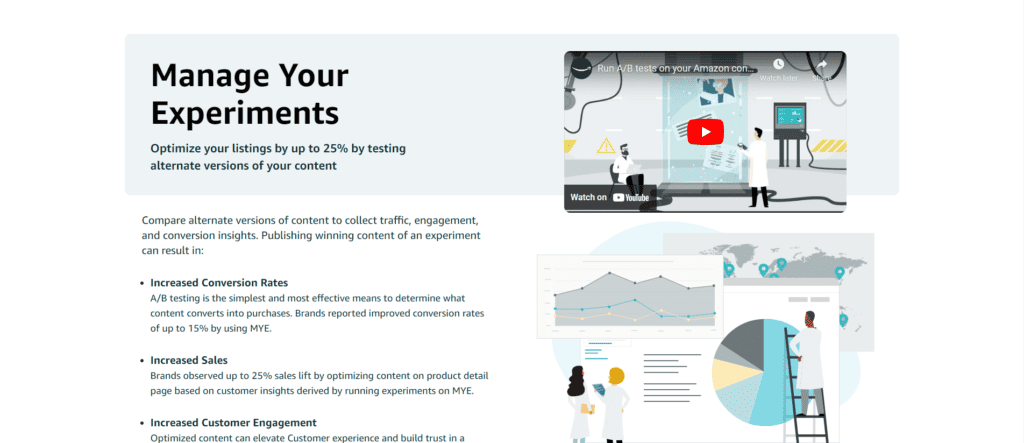 Creator Connections
Amazon has a new program geared toward helping sellers connect with content creators to promote their products. With huge number of influencers already referring traffic to Amazon, this program makes promoting your product super easy and efficient.
This program is especially great for smaller brands that don't have the budget to take big risks through advertising. Since the program is set up so that sellers provide a commission for successful sales generated by the creator, you only pay for sales you get, not for clicks you're experimenting with.
However, there's a lot to the program, and it's important to have a solid strategy before you go too crazy with anything. So to help out, we created a guide to help you out, which you can find here.
B2B Pricing
Okay it's true, there are a lot of products that "businesses" won't buy. Or at least, businesses won't buy often. But that's a silly reason to not take advantage of B2B pricing. And you never know when a corporation might have a weird scenario and they need bulk of your product.
For example, let's say you sell kids toys. Most of the time, your customers will be parents—and they're only going to buy one unit.
But there's a daycare somewhere that wants to buy 20 units. And tiered business pricing is a pretty simple way of giving yourself an edge against the competition. Perhaps that daycare really only needs 15 units, but 20 gets them to a new pricing tier. You could make a couple more sales with even small pricing bands.
And let's be clear about B2B pricing benefits. It's good for the customer because it gives them a discount. But it's good for you because it increases the number of units sold and the average order value (AOV).
If you have decent profit margins on your product, then it's probably worth setting up B2B pricing. It doesn't take much time, and you don't need to come back to it often.
Most sellers don't bother with B2B pricing because they don't envision many of their sales coming from B2B. But again, it's not hard, and you never know—it might actually do more than you expect.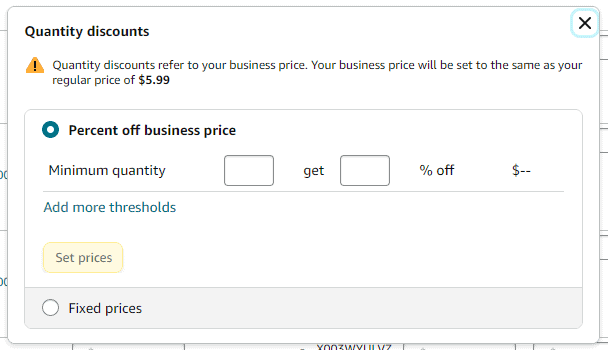 Remote Fulfillment
Many sellers want to expand internationally, but that can be super difficult. It's not impossible, but if you're a US based seller, even just selling in Canada can bring a huge amount of complications. And that makes international selling a risk.
Or at least, it used to be a risk. That is until Amazon implemented their Remote Fulfillment program, which allows customer in Canada and Mexico to purchase products in the US on amazon.ca and amazon.com.mx. The customer pays any import and duty fees, and gets the product shipped to them for free.
These sales don't cost sellers anything extra in FBA fees, and it only takes moments to set up. In fact, you can set up you set up the listings in just a few clicks in the Build International Listings portal.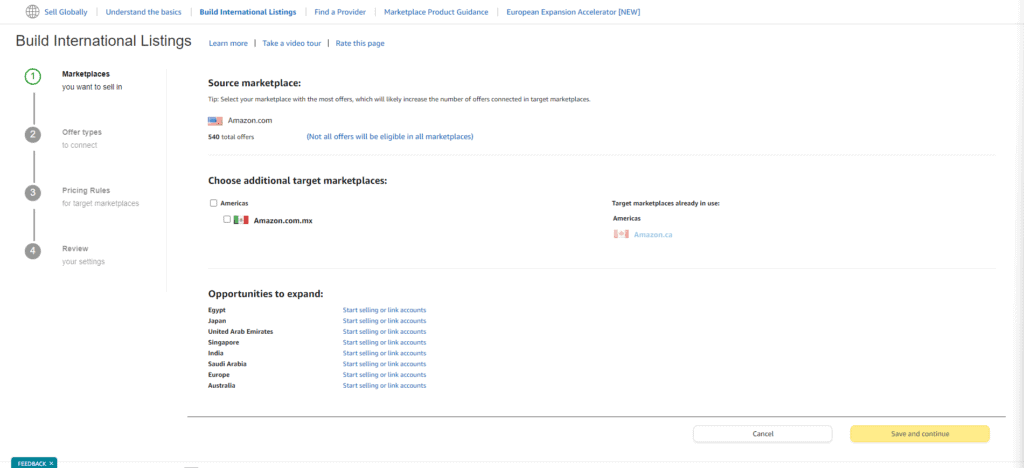 Amazon Remote Fulfillment isn't the end-all-be-all to international selling, but it's a great start. Customers in Mexico and Canada don't get fast shipping times, and they still have to pay the import and duties fees associated with the products. This means that it's a better customer experience to have listings native to those marketplaces.
So a pretty good system to have is to start by leveraging Remote Fulfillment. Then, if you're starting to get some good sales in Canada and Mexico, it might be worth figuring out how to get set up properly in those marketplaces.
As a quick note, the US is Amazon's largest marketplace—by a lot. This might be a good thing because competition probably isn't as fierce in other marketplaces, but it's important to have your expectations tempered. If you start in the US, odds are that each additional marketplace you sell in will account for less than 10% of your total sales.
And this is actually why leveraging Amazon Remote Fulfillment makes so much sense.
Customer Engagements and Brand Tailored Promotions
Once upon a time, Amazon would let you email your customers. All of them. You could email your FBA customers, FBM customers, customers that left a review, customers who didn't leave a review—it didn't matter.
They had rules of things you could say or couldn't say, but communication with customers was easy.
Unfortunately, this is no longer the case. Amazon only lets you communicate with certain kinds of customers for certain reasons. And for some reason, most sellers don't do this.
This is where those Posts we talked about early really come in handy. As mentioned before, Amazon Posts allow users to "Follow" your brand. Customer Engagements allow you to interact with those followers.
It's still limited in terms of how you can interact with these followers, but if you're launching a new product or discounting an existing one, you can send create an email campaign to segments of your customers and/or followers.
This program is still relatively new, which means it's changing all the time—and in a good way. Amazon seems to be more and more willing to allow brands to do more to interact with their customers.
Similar to Customer Engagements, Brand Tailored Promotions allow you send discounts and other promotions to previous customers, repeat customers, high spend customers, and brand followers.
The main difference between these two programs is the flexibility in your campaigns. Brand Tailored Promotions is only available to some brands, but it provides better tools for emailing your customers.
At the time of writing this article, it appears that Amazon is merging the two programs together, though. So it's likely that soon, both Brand Tailored Promotions and Customer Engagements will be the same thing (called Customer Engagements).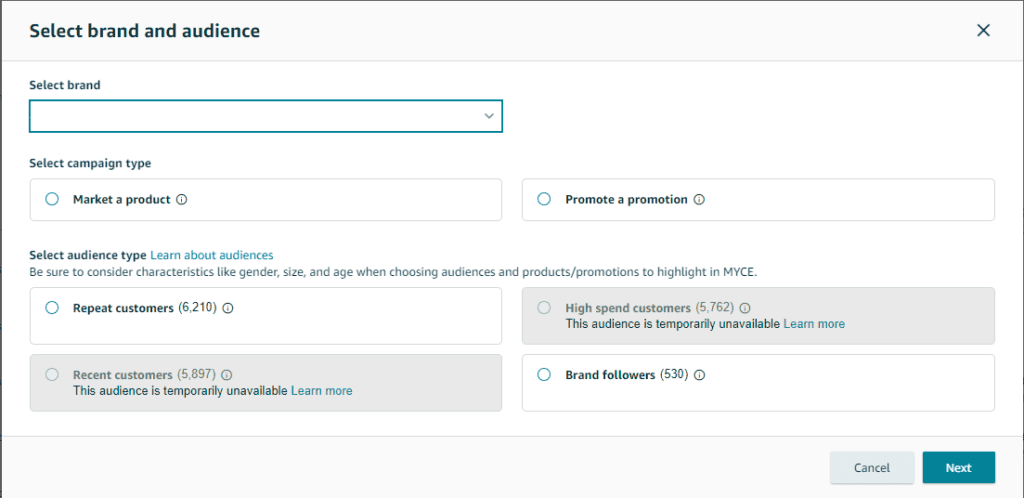 Amazon Warehousing and Distribution
One of the most challenging parts about running an Amazon business is managing inventory. Figuring out how much to ship, when to ship it, and how to balance all of that with storage fees, storage limits, and lead times (especially during the holidays).
Fortunately, you can mitigate a lot of these issues with Amazon Warehousing and Distribution (AWD).
The AWD is a network of warehouses dedicated to storing mass amounts of products long term. These Amazon fulfillment centers do not handle customer orders, which means they can store things on pallets, in larger quantities and move them quickly. Because shipments are less frequent, pick and packing is simpler, and quantities are larger, storage fees are smaller.
In many cases it costs less than half to store units in an AWD warehouse than an FBA warehouse. But that's actually not the main benefit.
The main benefit of AWD is that replenishment shipments are processed automatically. Generally speaking, sellers should keep their inventory stocked enough to cover 6-12 weeks of sales. But with AWD, you could send one big shipment in for the whole year and not replenish inventory for that entire time. Amazon will do it automatically.
This essentially allows you to leverage Amazon as a 3PL (especially if you use in tandem with Multi-Channel Fulfillment). It even makes it easy to process shipments to other retail outlets or marketplaces.

Multiple Listing Conditions
For most sellers, it makes good sense to sell products FBA. Although there are fees associated with it, the increased conversion rate and sales volume are more than enough to make up the difference.
The thing is, you don't actually have to choose between FBM and FBA—you can do both. Amazon calls doing this having multiple listing "conditions."
And no, we don't mean the condition of the product itself. Instead, you have one listing for the product (with one UPC, one ASIN), but there are multiple buying options (multiple SKUs). A customer can purchase your product and have it delivered by you or Amazon.
Generally speaking, if you have multiple conditions of a listing, the FBA one will have the buy box because it has the Prime badge. And that's what you want, actually. You don't want units sitting around in Amazon's warehouses.
However, if you ever run out of inventory before you're able to process a replenishment, your listing won't go dark. It will still be active because you still have the FBM condition on the listing.
You don't really want a lot of your sales to come from FBM, but it's a good fail safe if there are ever issues with FBA shipments. And it's good to have on in case of any other issues with FBA inventory.
You can create additional conditions through the Manage Inventory page (or you can create them using flat files). You just click on the drop down on the "edit" button.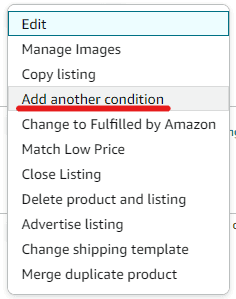 Shipping Setting Automation
When you sell your products FBM, one of the most challenging things to do is accurately communicate to your customer how much shipping will cost, and when their product will be delivered. That's where Shipping Setting Automation (SSA) comes in.
When you set up SSA, Amazon will calculate the shipping cost and time of your preferred carriers for your customer. Then they charge them according to the customer's shipping preference.
Many sellers try and calculate shipping themselves, then they just average things out and apply the settings in bulk. But this can lead to inconsistent profitability and bad shipping projections.
If you incorrectly calculate the shipping time for the customer, it can lead to negative account effects. You may even have your products suppressed as a result.
To set up SSA, you simply navigate to the Shipping Settings page and enable it.

Optimizing with Product Opportunity Explorer
The Product Opportunity Explorer (POE) is great for a lot of things. You can do competitor research before launching new products, see sales trends data, and get an idea of marketplace insights you can't get anywhere else.
Two of the most valuable insights are the search terms customer are using to find your product and customer review insights. Here's an idea on how you can use these sets of data:
Search Terms: Amazon gives you the top three search terms for the product you're examining. You can use this to find out what the most common ways people are phrasing your product. Ideally, your title should have as close a match to these search terms as possible.
Customer Review Insights: When analyzing the reviews of yours (or any other product) you can see what people are saying they like about the product, as well as what they don't like. You can then leverage these insights in your bullet points, product descriptions, titles, and A+ content.
The idea with these insights is to match your content on your listing with what people are searching for. This helps increase your click through and conversion rates, as well as informs the customer more effectively to help them in making a purchasing decision.

These are just some of the ways you can use the POE to optimize your listing though. You may find other insights that are valuable concerning which products you can cross sell, what your competitors are doing poorly that you do well, and other insights.
You can also get review insights through the Customer Reviews console. The insights just aren't consolidated or intuitive as POE might be.
Display Advertising
There are a couple of different types of Display Advertising with Amazon. One form stays on Amazon.com and appears on detail pages below the buy box or bullet points:

The other type of display advertising is off Amazon.com as part of other Amazon websites. For example, imdb.com is owned by Amazon, so you can advertise there through the Amazon DSP.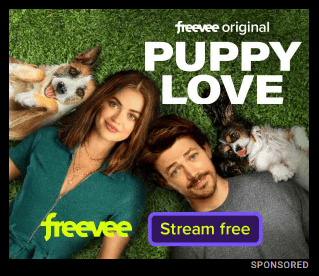 Generally speaking, the latter is ad space purchased by bigger brands—but smaller brands can purchase the space too. There's also a lot of flexibility given that you don't need to drive the traffic to Amazon (you could drive it to your website).
But specifically with the Sponsored Display ads on Amazon.com, it's a widely underutilized ad type. It doesn't take a ton of creative abilities, and it's not difficult to set up. And although it isn't typically the highest traffic, highest sales type of ad, it's worth at least trying for most brands.
Amazon Live
The vast majority of sellers don't take advantage of Amazon Live, which means there's a lot of opportunity that is untapped.
Amazon Live isn't not the highest trafficked page of Amazon.com, but there are a fair number of people that visit the page. And streams stay on the platform, which means that you're not just presenting your product to the viewers that are there live, but anyone who comes to the platform later on.
Sellers also don't need to be the ones creating the content. Instead, they could find a creator who already does Amazon Live, and get their product featured by someone who is already creating on the platform.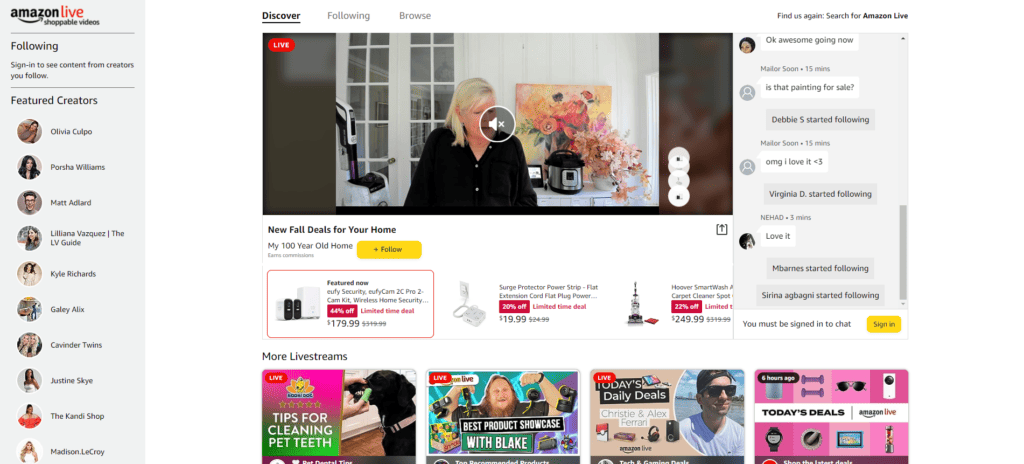 Catalog Optimization
The old adage "time is money" is right. And the amount of time sellers spend navigating the Amazon UI costs them a lot of money. This is why catalog optimization is so important.
Grouping like-products together, creating a good SKU naming convention—all of it helps sellers save time.
But even more than that, a lot of sellers have products that are alike, but not grouped together, which negatively impacts sales.
When you group like-products together, product reviews pool together, which can really increase conversion rate. If you have 5 listings with 50 reviews each, after pulling the products together in a parent-child relationship, you would then have 1 listing with 250 reviews.
Additionally, if the products are variations like color, you give your customers options when they come to the listing, which keeps them on the listing longer and increases your likelihood to get a sale.
Configure Notification Preferences
Monitoring your seller account is another thing that takes time. But you can reduce the time you spend monitoring your account by appropriately setting up Account Notifications in a way that makes sense.
In addition to being more productive and efficient, setting notifications up also helps you respond to issues in a timely fashion.
Every account has problems—every account has issues. When a product is suppressed, your account health is suffering, or your listing gets hit with a policy violation, it's important to get notified as soon as possible.
It always surprises us just how much gets missed because notifications aren't set up correctly. You don't want anything to fall through the cracks. And you only need to set them up once and adjust them as necessary.
Amazon Pay
These next two things deal with sales off-Amazon actually. Amazon Pay is similar to Google Pay or Apple Pay. Because Amazon users already have payment methods set up in their Amazon accounts, you can set up Amazon Pay for your website to allow users to check out with their Amazon details.
This has the benefit of increased conversion rate. Time and time again, brands have abandon carts on their website because users don't want to type in their information. But with a click of a button, they can just process the payment through Amazon.
It might not make a huge difference in conversion rate for your website, but it's probably worth the small effort it is to get it set up.
Buy With Prime
If you want to integrate Amazon into your website even more, you can level up with Buy With Prime, which allows you to sell your Amazon products on your website.
What this means is that if you have FBA inventory, when someone purchases a product from your website, Amazon fulfills it. It is exactly what it sounds like: Amazon.com—but on your website.
The benefits here are also obvious. You don't need to deal with individual orders, the customer gets faster ship times, and you get an increased conversion rate.
However, the drawback is that you must be selling on Amazon with FBA. Additionally, if storing and shipping the product yourself is more profitable, then you're sacrificing profit for sales volume. And there's always the question as to whether it's worth splitting your inventory up across multiple fulfillment channels.
But generally speaking, in our experience, most brands would benefit from using Buy With Prime on their website.
BONUS: Get an Internal Amazon Representative
We're going to put a little plug in here for ourselves. We have connections inside Amazon that sellers can't get on their own. And when you leverage BLAZON to boost sales on Amazon, we can often get an Amazon Rep for your seller account.
These representatives help sellers get access to features and programs that they can't get on their own. These include lightning deals, seller support escalation abilities, listing placements on the home page, additional listing attributes, external Amazon Instagram posting, and many others.
If your brand is doing well, and your products have a high review rating, we'd love to get you connected with one of our reps to get you into programs that can really boost your sales.
Conclusion
While not every seller is going to benefit from everything on this list, the vast majority will. And in the end, these are under-utilized features and programs—so it's worth a try.
It is so common for sellers to get stuck. Once a listing looks pretty good, and their ad campaigns are doing pretty well, the answer just seems to be spend, spend, spend.
But it doesn't need to be that way!
Every seller has a ton of tools at their disposal that can help them drive sales. And most agencies don't talk about them.
Well, we think every seller should know their options. And although this isn't an exhaustive list of everything you can do on Amazon, it's a pretty good start and should keep every seller pretty busy for a long time.
Or, of course, you could just ask us to do these for you—we're probably better at it, anyway.