Amazon's new Creator Connections tool allows sellers to connect with social media, blogging, and content influencers to promote their products.
Influencer marketing has been around for a long time, but for most brands, it's difficult to find a good match for their products. Additionally, negotiating brand deals is an arduous process that can take up a lot of time.
The Creator Connections program really streamlines this process for both brands and content creators, making product promotion effective and efficient.
Using Creator Connections
The Creator Connections program is located in the ads console under the "Brand Content" sub-menu. At the time of writing this article, the program is still in Beta, so only some sellers have access to it.
However, one thing is clear, this is a program that will only be available to brand registered sellers. Sellers will need a brand profile and store for every brand whose products they want promoted.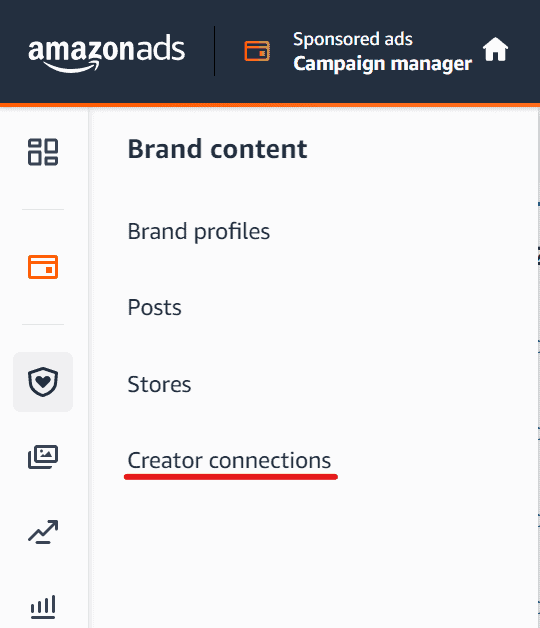 If you're navigating from Seller Central, you'll first need to find the "Advertising" sub-menu and click on "Campaign Manager." From there, you'll be able to find the appropriate console navigation.
Creating a Campaign
From the Creator Connections console, it's pretty easy to create a campaign. Campaigns are brand specific though, so if you have multiple campaigns managed in your seller account, you'll need to choose one.
From the main console, you can also get a broad overview of the campaigns specific to each brand. You can see how many campaigns are pending, active, completed, or declined.
Most sellers only have one brand per seller account, but it's convenient that you can manage multiple brands form the same console.
Campaign Details
When you go to create the campaign, you're going to need some details to get going. Think of this like a job posting. Creators will see these details and reach out if they want to be part of your campaign. So there's some marketing you'll want to employee to have a successful campaign.
Naming the Campaign
Amazon only gives you 80 characters for a campaign title, so you'll want to be clear and concise with your campaign name.
Note: Creators can see the title of the campaign, so don't name it for internal use only. Names like "Test Campaign 1" or "Summer Campaign – Outdoor Products" are probably really bad ideas. These don't really help creators decide if they want to engage with your campaign.
Instead, use names like "Complete Hiking Kit for Outdoor Enthusiasts" or "Gadgets to Save You Time Cleaning." Not only do these help creators know if they are a good fit for your campaign, but they also help influencers know what kind of content would be good to create to promote your products.

Message to the Creator
Much more clear is the "message to the creator". Think of this like the product description for your campaign—or maybe your listing bullet points. Specifically, you want to focus on how you can help the influencer create high quality content.
Amazon gives you a total of 3000 characters for your campaign description. You do not need to use all of these characters. Your focus should not be on how much space you can use, but rather how you can persuade creators to work with you.
Based on the demo message Amazon provides, it appears that basic markdown text formatting is supported. This means that you can create line breaks, bold characters, and otherwise customize the message to make it easier to read.
The most important parts of this message to creators are:
Key Talking Points: This really gives the creator an idea of the content they could create for your campaign. The more ideas you can give them, the more effective it's going to be. If a creator can see what kind of content they can make clearly, it's going to be an easy yes.
You want to reduce as much friction as possible here. If a creator has to think really hard to know what kind of content that will produce a lot of traffic and conversions, it's going to be difficult for them to want to work with your brand.
Things to Avoid: You want to be really clear and direct here. If there are things a creator can't say when promoting your product, you'll want to be sure they know that. It would be horrible to get into trouble because you didn't effectively communicate with the creators.
Getting this part of the messaging right helps you have a smooth partnership with the creator. If you set expectations clearly, you reduce the number of errors you need to correct later on.
Also be sure to add any disclosures required for your product. Again, this is to ensure the process is smooth.
And finally, be sure your campaign runs long enough for the creators to produce high quality content. If the campaign time frame is too short, it limits the upside for the creator, and as a result, how many creators who want to work with you.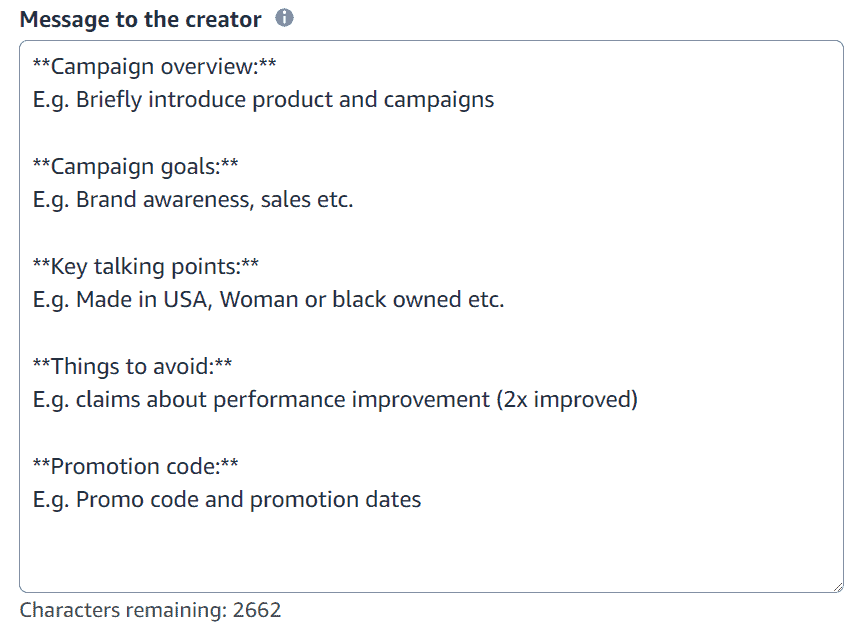 Creator Interests
At the time of writing this article, Amazon has over 8600 content creators participating in the Creator Connections program. By adding specific interests for your campaign, you increase the relevancy of your campaign. This means your campaign is more likely to be discovered by appropriate content creators.
The more specific you can make your campaign, the more relevant it will be for certain audiences. And the more relevant you can be, the more engaged an audience will be, and the more success the creator will see. So you want to really position your campaign to appeal to as specific a creator as possible.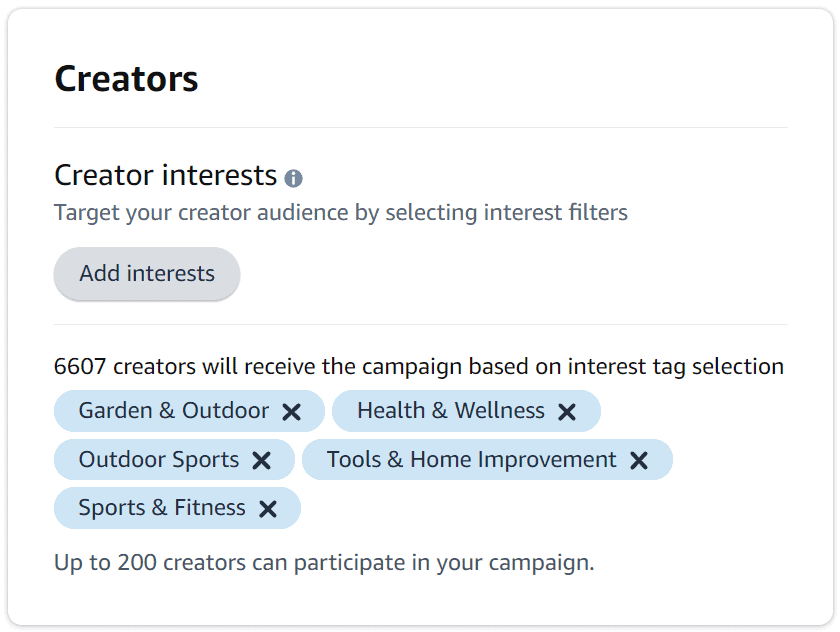 Budget and Commission Structure
Under the "Payment" section of the campaign creation tool, you'll set your commission rate and budget for the campaign.
Just so it's clear, the "Campaign Budget" is not how much you'll pay the creator. At least, not directly. What this is saying is that you'll pay a max commission of "X" amount of dollars for the campaign. So across all the content created by all of the influencers, you won't spend more than that amount.
The "Commission Rate" is what percentage of sales the creator will keep from the sales they bring your brand. Amazon already has an affiliate program, and Amazon is already going to be paying a commission to these creators for sales generated by them. But that doesn't mean you should shirk on the discount.
Amazon's base commission is between 1-4%, and some creators get up to 7% of the sales they drive. But it's not clear if your commission replaces Amazon's commission, or if it's in addition to Amazon's commission. (We think it should be the latter, but we wouldn't put it past Amazon for it to be the former.)
To be safe, we recommend giving a discount of at least 5% to appeal to creators. However, another strategy is to consider these as advertised sales. So if your normal advertising ACOS target is 30%, it might be a good idea to consider a generous commission. This will increase the likelihood of creators wanting to work with you.
The default amounts Amazon provides for budgets and commissions are $5000 and 5% respectively. If you zero these numbers out, though, you'll notice that Amazon's minimum requirements are $1000 and 1%.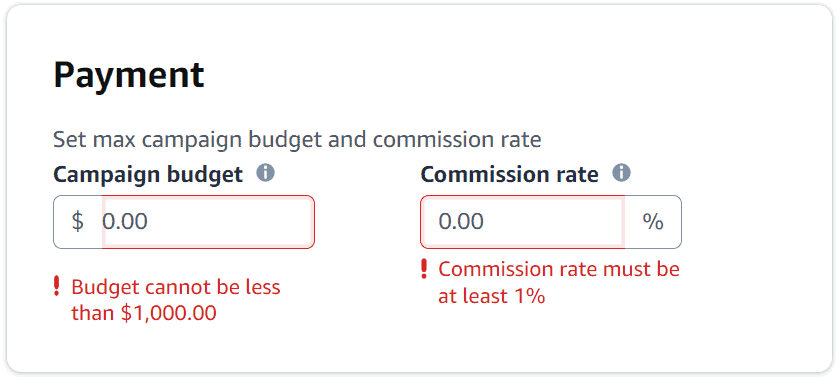 Note: It's important to consider both the "promotion" amount and the "commission" rate. These are different. The commission is how much the creator gets, the promotion amount is discount the customer gets.
Many creators may be willing to work with you even if you don't provide a promotion code, but the most successful campaigns have both. Again, if your normal ACOS goal is 30%, it may be worth considering the following strategy:
Commission: 10%
Promotion: 20%
You'll need to generate promotional codes for the creator to use.
Adding Products to the Campaign
This section is pretty straightforward. You'll want to add as many products as are relevant to your campaign. You'll want to make sure that you promotional codes match this content selection—so double-check to be safe.
If you've taken the rest of this process seriously, then figuring out this part of the campaign creation should be really easy. But this is the last step in creating a campaign, so at this stage, it's important to go over your work again. Is everything spelled correctly, are your campaign title and message effective, and is your campaign offer appealing?
After this, you can launch the campaign, and you're off to the races!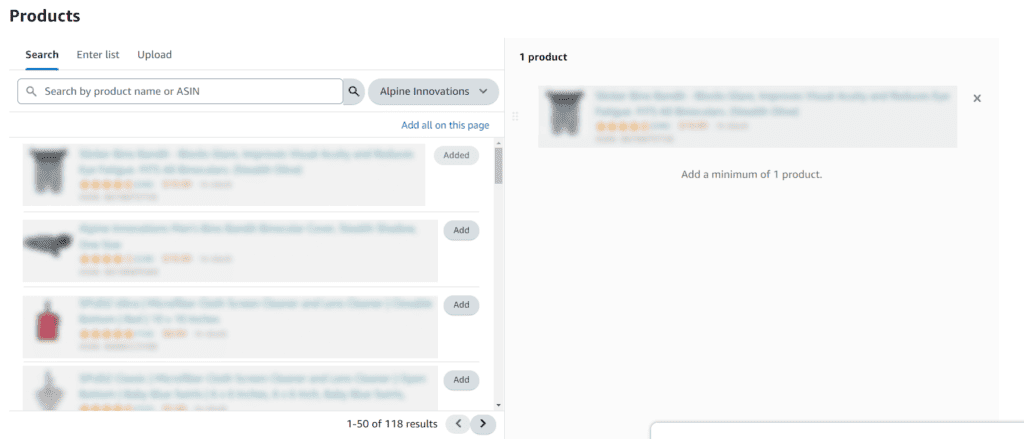 Messaging and Vetting Creators
Once you've created a campaign, you can find specific creators and view their work. From the Creator Connections campaign management page, navigate to "Creators" in the top left.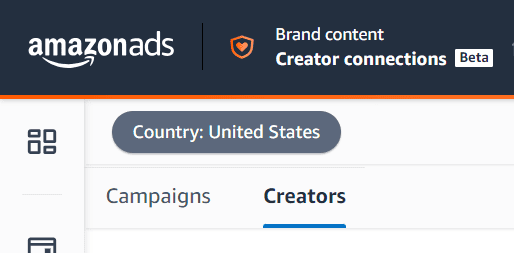 From here, you can do quite a bit! You can find specific creators by filtering for specific interests, whether they've linked to your store, or how effective their work has been in the past.
When you click on a specific creator's profile, you can see an overview of their brand, what channels they create content on, as well as products they've linked to in the past.
However, that's where the interactions end. Unless a creator has applied to take part in your campaign, you cannot message the creators directly through the Creator Connections platform.
In the bottom right of the screen, though, you have the messaging interface for connecting with creators. There aren't a lot of options here—it's just a direct message platform, but it gets the job done.
The messaging node is for the console in general, so you can access it at any time and toggle between the brands you're running campaigns for.
Since the program is still new, it's hard to say exactly what kind of communication practices are allowed and which one aren't. But we wouldn't past Amazon to implement pretty strict communication guidelines. So be aware of that and try to keep your communication professional.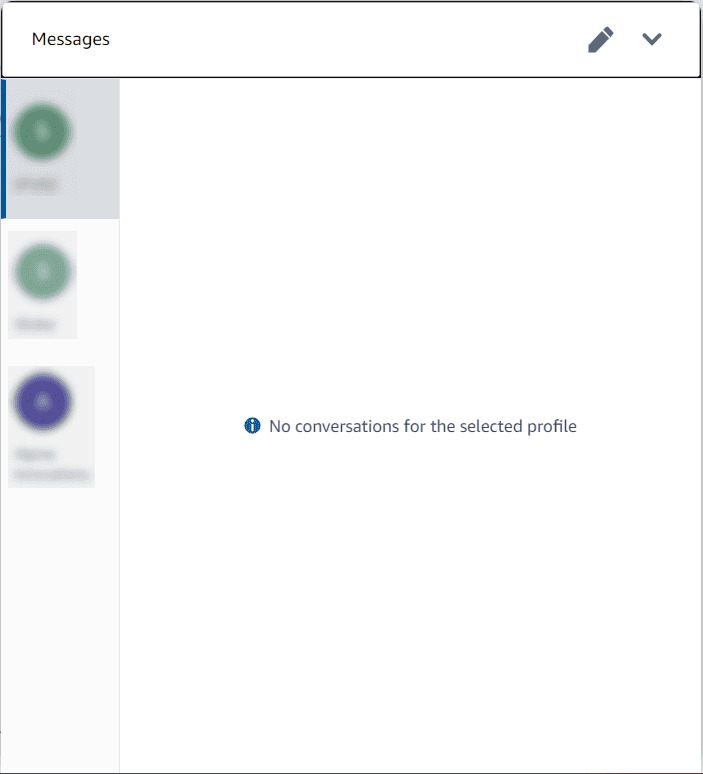 The Benefit of Influencer Marketing
Influencer marketing has had a strained place on most social media platforms. Users don't like to see creators sell out, but creators gotta make a living. So it's important to be really intentional with your marketing. A lazy approach leads to very few results, which can tarnish not only the creator's brand image, but yours as well.
However, if you can connect with a great creator and run a highly relevant campaign, the effect can be huge! Understanding where influencer marketing fits into an overall strategy is vital for success in the program.
The obvious benefit for sellers is that they don't need to pay for sales they don't get. While other forms of advertising can carry a huge risk, influencer marketing is relatively risk free.
This is especially beneficial for smaller brands who are having trouble getting noticed, where budgets are always a concern. The Creator Connections program allows sellers to allocate funds toward marketing results, not just marketing efforts.
It can also be a great pairing as many of these influences don't have massive followings themselves (odds are you're not going to find a Kardashian through this program), but they are anxious to find ways to create new content.
Keeping the "Big Picture" In Mind
Amazon keeps adding more and more features and advertising products to their platform. These programs are hugely beneficial for many sellers, but it's important to maintain perspective with these programs.
There's no such thing as a "silver bullet" on Amazon. Even with flawless execution, most programs on Amazon only help generate sales. They are not a replacement for ensuring that you have a high quality product, or a brand worth engaging in.
Additionally, if your listing isn't great at converting, or if interacting with your brand isn't a great experience, leveraging this program will only take you so far.
As a result, it's important to use Creator Connections as just one of many tools to build a solid business on Amazon. For some brands, it might even be a great place to start. For most, Creator Connections will be most useful when your brand is already well established on Amazon.
There a lot of things to look at when building your brand on Amazon—and we don't want to keep any secrets. In fact, if you've already got the basics down, there are a lot of things worth taking a look at in addition to the Creator Connections program.
If you want an idea what some of those things are, take a look at this resource we created here to get you started building out a robust strategy for your brand on Amazon.
This means that having a great brand strategy is vital. Having an expert who knows Amazon inside and out in your corner can make all the difference between some success and wild success on the platform.
If you need help navigating this platform, structuring campaigns, or vetting creators—reach out. We'd love to help you out.
As mentioned before, this program is still in Beta, so it's highly likely that your account doesn't yet have access. But we've seen great programs like these move quickly with Amazon, so be on the look out. You won't want to miss this opportunity!