There are a lot of rules for selling on Amazon, and making sure that you keep all of them can be an overwhelming task. Fortunately, there are tools you can use to ensure that your Seller Central account is in good standing, and we're going to walk you through what those tools are and how you can use them to make sure you're compliant.
In this article, we'll cover the following topics:
Overview of Seller Account Health
Policy Compliance
Customer Service Performance
Shipping Performance
Other Factors
How to Avoid Penalties
By the end of this article, you should be able to navigate any Amazon account health issues with ease, resolve concerns, and avoid policy violations in the future.
Overview of Seller Account Health
Amazon Account Health is separated into three different categories: Customer Service Performance, Policy Compliance, and Shipping Performance. You can find these categories, along with their areas of concern in the Account Health dashboard.

You can access this page from the main menu, by hovering over Performance > Account Health.
Each category has different areas of concern and can affect your account health in different ways. Additionally, there are areas of concern not listed in these three categories, such as Seller Feedback. However, generally speaking, if your performance is good in these three categories, there shouldn't be many major issues with your account. Although there are exceptions.
Addressing Violations From the Dashboard
If you're having issues with your account, you can usually address them from your account health dashboard by clicking on any area of concern.
You'll note for this account, we have a "Restricted Product Policy Violations" issue.

By clicking on the hyperlink, I'm taken to a page where I can address the concern, appeal the issue, or otherwise take action. Amazon typically requires some form of documentation and explanation before removing a violation.
You'll also notice that at the top of the Policy Compliance box, there's a number score known as the Account Health Rating.

This rating is a number score between 0 and 1000 that indicates the overall health of your Seller Central Account. Amazon doesn't provide a lot of insight concerning the algorithm they use to determine the score, but we do know that the score is calculated using the following factors:
How many policy violations you have, and have had historically
How severe the policy violations are/have been
Whether or not a violation has been repeated
However, based on our experience, it seems as though Amazon also looks at other issues of account health when determining the Account Health Rating (AHR). In our estimation, this score is actually determined using all kinds of information, including the following factors:
FBA performance
Customer service performance
Shipping performance
Seller feedback
If your AHR is between 200-1000, then your account is in good standing, and you generally should not be concerned about account deactivation.
If your AHR is between 100-199, then your account is at risk of being deactivated. Typically, this means you have multiple policy violations, with some being severe.
If your AHR is between 0-99, then your account is eligible for deactivation, or is already deactivated. You'll want to take immediate action to resolve any issues or policy violations to get your account reinstated.
Contacting Support Through the Dashboard
From the account health dashboard, you can contact Amazon concerning any issues you may be facing. This is the best way of contacting seller support as it connects you with a team that already has the tools and context necessary to give you the best response. In the top right-hand area of the dashboard, you can find the button to contact the account health support team.

It's important to note that this team is the base level team for account health. They have access to the information in the record of each policy violation, but they aren't the team that actually investigates or resolves issues in account health. So it's best to contact this team if you have questions about a policy, are wondering about the status of an appeal, or need more information on why an appeal was rejected.
The other area you can contact Amazon through the account health dashboard is over in the top left of the page, using the "Report abuse" hyperlink:

This link is the one you'll use to report other sellers. Typically, you'll want to avoid using this tool unless a seller is violating a policy that directly and negatively impact your account and sales. When you report a violation, Amazon investigates the issue, and if they find there isn't an issue after all, you can be penalized for the false accusation. So you want to be sure that you have the right information when you report a violation.
The category that affects your AHR is the policy violation section. These issues are typically regarding restricted products or product categories, or intellectual property violations. Amazon has four levels of violation severity, each level having a greater negative impact on your AHR:
Low
Medium
High
Critical
Generally speaking, the Low policy violations do not impact your selling account status or your Account Health Rating. You'll still want to resolve those issues if you can, but they aren't a threat to your selling account.
Medium and High violations need to be addressed, and the issues resolved. These can significantly impact your AHR and selling status. They should not be put off, but should be addressed immediately.
Any policy violation marked as critical should be resolved immediately and is cause for great concern. Sometimes, these policy violations have caused your account to be deactivated. It's also possible that there may be legal concerns with critical policy violations.
Sometimes you can get Amazon to remove a policy violations with a "slap on the wrist" without actually changing anything. Although this is possible, especially for low level policy violations, it's still important to work to fix the issue.
If Amazon finds that you repeat the same violation more than once with the same ASIN, Amazon will increase the violation level of the issue, which impacts your AHR more severely. Additionally, if you reach the maximum number of policy violations in a 180-day period, Amazon might deactivate your account.
So although you can get away with some policy violations without changing anything, if you don't actually address the issue, it might come back to hurt you.
As mentioned before, when you get a policy violation notice, you can just click on the notice to be directed to the area where you can submit an appeal.

In this area, you can see the kind of policy violation the issue is, when the violation was issued, which ASINs are impacted, what action Amazon took concerning the violation, the impact of the violation on your AHR, and the button to submit an appeal.
You'll notice that the example we're looking at is regarding restricted products. This specific issue includes claims made on the detail page that Amazon prohibits.
Amazon removed the listing on March 6, 2023 as a result. However, you'll notice that this specific issue isn't hurting our account health rating at all, which is fortunate.
By clicking the "Submit appeal" button on the right of the screen, we can find out more about what we need to do to reinstate the listing.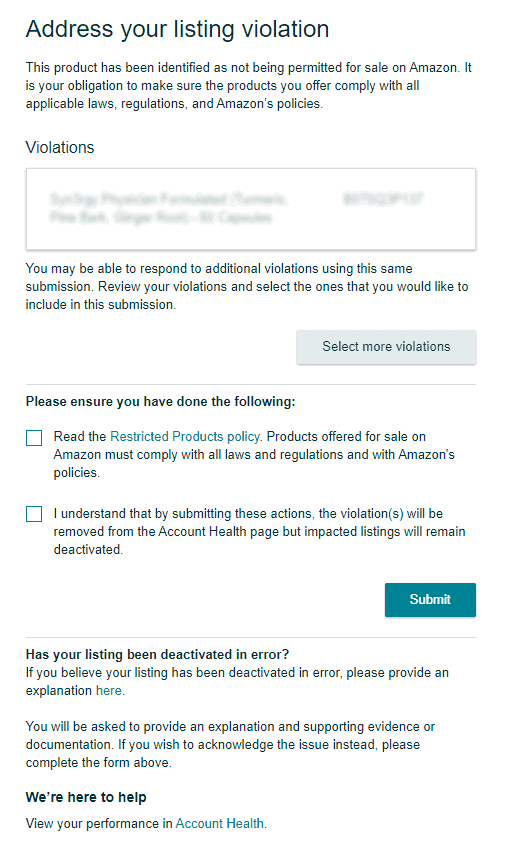 Your specific appeal page might look different as not every policy violation is the same. But in this case, Amazon is not giving a whole lot of room for re-activation. There is a small link that allows us to create a case, but there isn't a clear path to reinstatement here.
In many other cases, Amazon might ask you to upload supporting documentation, images, invoices, or other assets to help state your case.
It's also possible that Amazon just requests that you acknowledge what the issue is and lay out a plan to resolve the issue.
Either way, this is the page where you get information on the product violation, submit assets for the appeal, and make your case.
Customer Service Performance
Perhaps the hardest area of account health to keep up on is Customer Service Performance. This requires to largest amount of upkeep, and it has the most facets, which makes it the most involved out of all of the areas of performance to maintain.
The main factor in maintaining Customer Service Performance is maintaining a low Order Defect Rate, which is broken down into three metrics:
Negative Feedback
A-to-z Guarantee Claims
Chargeback Claims
However, those aren't the only areas that make an impact. In fact, it's also really important to stay on top of the following aspects of customer service:
Customer messages
Voice of the customer
Negative reviews
And that's in addition to the other aspects of customer service that may be involved with selling products. Needless to say, customer service can be quite the task. That's why we created a "Customer Services Best Practices" resource to help you know where to look. You can find that resource here.
The main things you're going to want to stay on top of to ensure that you avoid any penalties are the following:
Customer Messages: Amazon requires sellers to respond to customer inquiries within 24 hours of receiving them. That can be a tall order if you move a lot of product, but it's important.
Negative Feedback: This entails just offering good service, generally speaking, but also includes improving in areas that you're receiving negative feedback. There are things you can do to mitigate negative feedback, but the simplest way to do that is to just provide good customer support from the get-go.
If you do these two things, you should avoid most chargebacks and A-to-z claims, which in turn will keep your order defect rate down.
One other thing to keep an eye on is the Voice of the Customer page, which can be found in the main menu under Performance > Voice of the Customer.
Although you can read through reviews one by one to get an idea of what people like or don't like about a product, the Voice of the Customer tool allows you to quickly see what customers are saying about your product. This customer sentiment tool allows you to troubleshoot issues and iterate on your product quickly to ensure that you have the best product for your customer.
Again, this helps you avoid negative customer experiences, which makes it easier to maintain account health. It requires that you be proactive, but it also means that you don't need to convince Amazon to reinstate your account because you catch issues with your product before they become problems.
Like Customer Service Performance, your Shipping Performance is broken down into three main areas of concern:
Late Shipment Rate
Pre-Fulfillment Cancel Rate
Valid Tracking Rate
However, there is one more factor that isn't listed by default, which is just as important to your account health: On-Time Delivery Rate.
Before we look at each of these factors in turn, it's important to note that if your products are FBA, then this category of performance is almost never an issue. However, it's generally recommended that sellers have FBM conditions for their listings, in addition to FBA conditions, so every now and again, this performance category usually matters for everyone.
Amazon really cares about ensuring customers know when to expect to receive a product, so your Late Shipment Rate (LSR) is a metric to make sure you have a good handle on.
Your LSR is based on your handling time, which is set in your "Shipping Settings." Specifically, you'll navigate to the gear icon in the top right hand corner and select "Shipping Settings". Then from there, you'll select "General shipping settings". The settings that affect your LSR are "Order Fulfillment Settings" and "Handling Time".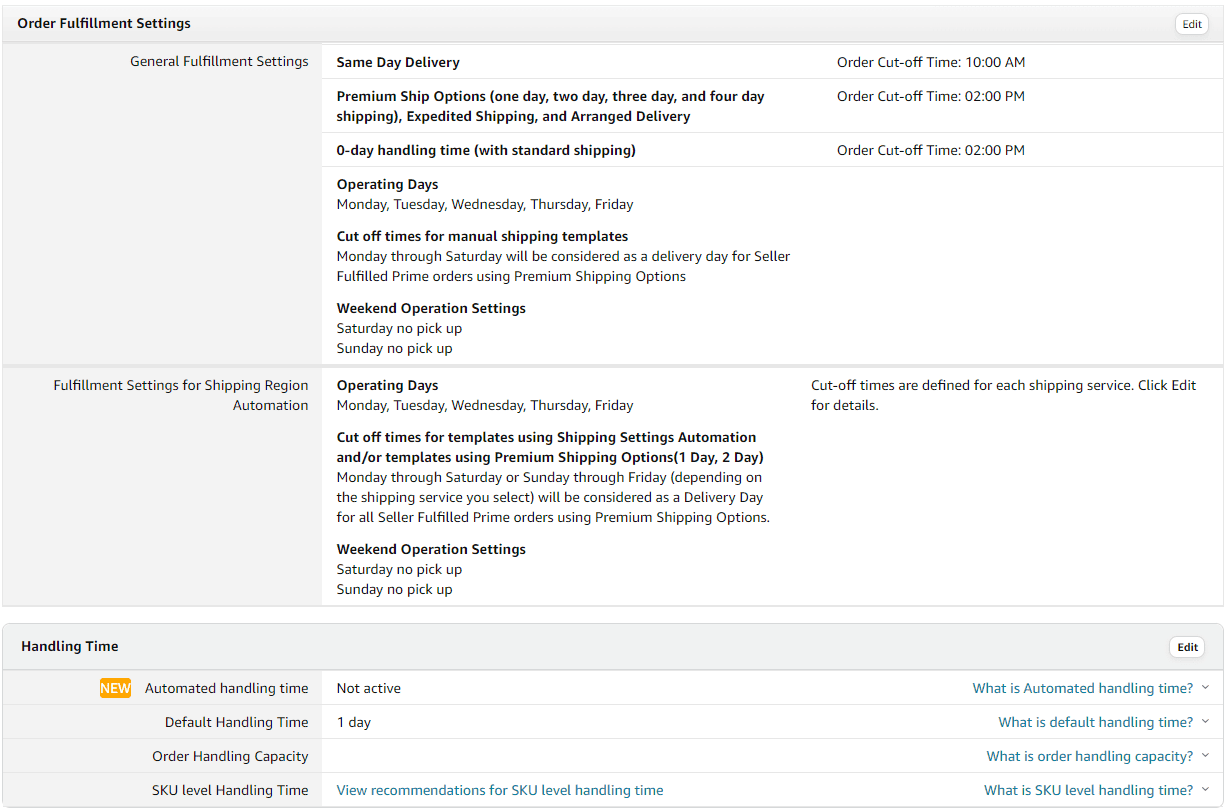 You have quite a bit of flexibility over these settings, but once they're set, they become the standard Amazon will hold you too. And not meeting your shipping targets can really negatively impact your business on Amazon.
It should be noted that there are some settings that Amazon controls—you just need to meet their standards. And if Amazon thinks your shipping isn't fast enough, they can penalize you. So it's important to try and offer the best shipping you can, within reason.
For handling time, Amazon gives you the options if same-day handling, 1 day handling, and 2 day handling. This means that you have to confirm that the customer's order is shipped within that time frame.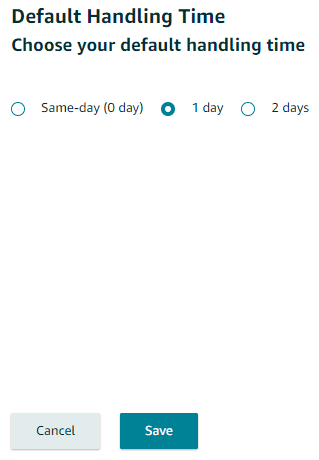 This handling time is affected by your Operating Days set in your order fulfillment settings. If your business only ships orders Monday-Friday with a handling time of 1 day, and a customer orders a product on Friday afternoon, you are not expected to ship that product until Monday.
It's worth noting that this will play into the expected delivery date given to your customer, though. A customer ordering on Friday will see a later ship date if you don't ship on weekends, which may negatively affect your conversion rate on the weekends.
You can adjust these settings as needed to provide a good experience for your customer that's sustainable for your business.
If you miss the LSR target of less than 4%, Amazon may suppress aspects of your listing, like removing your offer from the buybox. In this way, maintaining a good Late Shipment Rate is vital to the success of your business on Amazon.
Pre-fulfillment Cancel Rate (CR)
Although Amazon allows customers to cancel orders, or request returns or refund, they don't like it when sellers cancel orders that customers have placed.
The Cancel Rate (CR) is only applicable to orders the seller cancels, or that Amazon cancels for the seller as a result of not confirming a shipment in time. Obviously, canceling orders leads to a negative customer experience, which can affect other areas of seller performance and account health, so it's vital that sellers maintain a CR of below 2.5%.
If sellers have a CR of above 2.5%, Amazon can revoke the seller's ability to sell products FBM, or at very least, remove their offer from the buybox.
A high Cancel Rate is usually a result of not having product in stock, or some issue with the fulfillment process. Sometimes, cancelations are a necessary part of business. Every seller has to deal with being out of stock or fulfillment issues sometimes. But cancelations should be mitigated as much as possible.
If you are aware of upcoming out-of-stock of fulfillment issues, you can do one of three things to ensure you don't need to cancel orders:
Manually Zero Out the Inventory: Sometimes integrations that handle inventory aren't perfect at maintaining the integrity of inventory data across sales channels. So if you're getting low on inventory for a particular SKU, it's a good idea to closely monitor the inventory and manually set it to zero in Amazon, if necessary.
Temporarily Deactivate the Listing: If the problem you're involves more than just inventory issues, it might be a good idea to deactivate the listing. This allows you to work on the listing without the listing being live, but also without deleting it. You can resolve a number of issues this way, including API integrations and 3rd party tracking apps.
Set Your Account Status to "Vacation Mode": In your seller information settings, you can set your account status to vacation mode. If you're having trouble with more than one SKU, or problems across your entire account, this might be a good way to go. It allows you to suspend activity on your account and fix issues before starting to sell again.
It's important to keep a good eye on your inventory to avoid any account health issues associated with inventory issues. Amazon looks at CR performance over a 7 day period. So one day of orders gone wrong and cause serious damage to your account health.
Valid Tracking Rate (VTR)
When you confirm an order as "shipped", Amazon requires that you provide a valid tracking number to the customer. Obviously this is for the customer's convenience, but it's also provides a level of guarantee that the order is being handled correctly.
Your Valid Tracking Rate (VTR) should be at least 95% or higher. If you're a high volume seller for your space, this can be difficult to do manually, so it often makes sense to rely on a 3rd party application to take care of this automatically. This reduces the likelihood of human error.
This is an issue of accuracy, so the more that you can reduce human error, the better.
As with all of the other aspects of account health, major consequences can follow if you don't hit the targets Amazon gives you.
On-Time Delivery Rate (ODTR)
An area of concern that goes hand-in-hand with LSR is the On-Time Delivery Rate (ODTR). Like with handling time, you can set your shipping time in your shipping settings using templates. The first shipping template you create is the default shipping template, and unless otherwise stated, all of your FBM listings will utilize the default shipping template.
Amazon requires that you maintain an ODTR of at least 97%, which means that even more important than making sure you ship products on time is that they get to your customers on time.
Amazon assesses the ODTR metric over a 30 time period, which means that a bad day or week of deliveries can really negatively affect things for a while.
Typically, Amazon penalizes late deliveries by removing your offer from the buybox. This makes it even harder to recover from a bad ODTR.
As mentioned earlier, all of these factors are taken care of if you manage your orders with FBA. Relying on Amazon for fulfillment ensures that you don't have any issues with shipping performance.
Customer Service Performance, Policy Compliance, and Shipping Performance are the only categories Amazon includes directly in Account Health. However, there are other factors that may indirectly have a negative impact on the health of your selling account. These factors may not influence your Account Health Rating, but they may make it more difficult to sell in other ways.
Inventory Performance Index (IPI)
One of these factors is the Inventory Performance Index, which directly affect how much inventory Amazon will allow you to store in their warehouses. A low IPI may result in Amazon restricting your inventory storage capacity in their fulfillment centers, which in turn makes it harder to stay in-stock.
There are a number of factors that influence your IPI score, but a simple way of thinking about it is that you want to maintain 60-90 days worth of inventory for each SKU.
If you have significantly more or less than that, Amazon may decrease your IPI score, limiting your inventory storage capacity. Additionally, if you have excess inventory for a long period of time, you might encounter costly "long term storage fees" for old inventory.
Although IPI doesn't affect your overall account health, having good inventory health is important to a good customer experience. If you're in and out of stock constantly, sales will be volatile, which can hurt your long term performance on Amazon.
Negative Customer Reviews
The performance of an individual SKU doesn't necessarily hurt your account health, but it does hurt the performance of that SKU. If your product is receiving too many negative customer reviews, Amazon will assign that SKU a bad Negative Customer Experience (NCX) rating, and can even suppress your listing.
This is especially true if you don't represent your product accurately on your detail page. If your product is not meeting customer expectations, Amazon will actually flag your listing with a policy violation, and you'll need to change the information on the detail page.
The idea here is that it's best to list high-quality products and represent them accurately on the product detail page.
Review or Algorithm Manipulation
The age-old question is "how do you gather positive reviews on Amazon." Amazon is very strict with their review policy, and the last thing you want to do is violate that policy. Not only can Amazon remove reviews that they think are incorrect, invalid, or manipulated, but they can deactivate your selling account and prohibit you from ever selling on the platform in the future.
Even though you want to avoid negative customer reviews, you absolutely do not want to violate Amazon's review policy. Even if you don't think you'll get caught.
Instead, we recommend that sellers become Brand Registered and leverage the Vine program to garner early reviews. These are guaranteed reviews. It costs money, and you give away the product for free, but the reviews can really launch your product into good sales early on.
As you can tell, there's a lot to ensuring that your selling account remains in good standing. The best policy is to be a proactive seller, which can be difficult, but definitely pays off over time.
But being proactive can be extremely difficult. Amazon's policies frequently change, and the platform is always evolving. What were best practices last year might not be valid anymore.
That's why here at BLAZON, we've developed an account audit to make sure you're leveraging all of the Amazon platform to your benefit. This system contains well over 100 action items that change and adapt to meet the needs of Amazon sellers.
We've helped sellers troubleshoot performance issues and reinstate account, as well as grow sales exponentially by always being ahead of the Amazon game.
To find out if we can help you grow your sales, schedule a consultation call today.